Back in late November I heard about a program called Graze - it's a mail-order subscription service for boxed snacks. Every one, two or four weeks, a little box gets delivered to your home (or in my case, I chose my office) with four individually packaged snacks inside. Each box costs $6. When I first heard about Graze, I used a subscription code that allowed me to get two snack boxes for free. No reason not to try it!
These types of subscription services seem pretty popular lately. I've seen other companies offering snack boxes, some for pet toys and treats, and even for beauty products. It's a pretty great idea for snacks. One less item to pick up at the grocery store, and who couldn't use a little variety? It is the spice of life, after all.
Graze offers sweet snacks, savory snacks, gluten-free options, low calorie options, high protein options and more. When you log in to your
Graze
account, you are able to view all of the snack offerings. Before you place your first order, or after you've tried some of the snacks, you can rate them: Try, Like, Love or Trash. Rating the snacks ensures your boxes will be filled only with what you'll enjoy.
Some of my favorites have been Scandanavian Forest (dried blueberries, lingonberries, cherry infused raisins and dried apple slices), Texan Corn Salsa (corn chips, salsa almonds, roasted corn and jumbo chili corn) and Apple Cinnamon Flapjacks (rolled oats with apple and cinnamon - like a chewy granola bar). I have lots of other favorites, but you should try them for yourself and find out what yours are!
Boxes are packed using Graze's "80/20" rule: 80% healthy, 20% treat. That keeps your snacking
mostly
guilt-free. Graze snacks are also free of artificial sweeteners, colors and flavors. Aside from keeping health in mind, Graze also is looking out for the environment. Almost the entire package is recyclable, including the cardboard delivery box and the individual plastic snack containers (they're each sealed with a small plastic sheet, which I throw in the trash).
Since I've been receiving Graze boxes, I've developed a taste for more varied trail or snack mixes than I used to eat, as well as more kinds of dried fruits. Because of this, I've kept my eye open when going to the store thinking maybe I'd spot one I'd like to buy in bulk and try. Whether it's the neighborhood grocery store, Trader Joe's or even my local co-op, I haven't found anything quite like what Graze puts together. And I don't know what kind of magic Graze puts in its dried fruit, but it's amazing. The apple and pineapple are my favorite - they're soft and full of flavor, unlike the hard dried fruit you might buy at the store. You know what you're getting is fresh, because if you look at the little insert that comes in each box, you'll see expiration dates for each of your snacks.
So...are you interested yet? If you'd like to try a Graze box, you can use my Friend Code, which may give you a free box or discounts: LVXH532GP (As of the posting of this entry, new subscribers get their first and 5th boxes free - you can cancel at any time, and there is no membership fee or cancellation fee. Graze makes it easy!).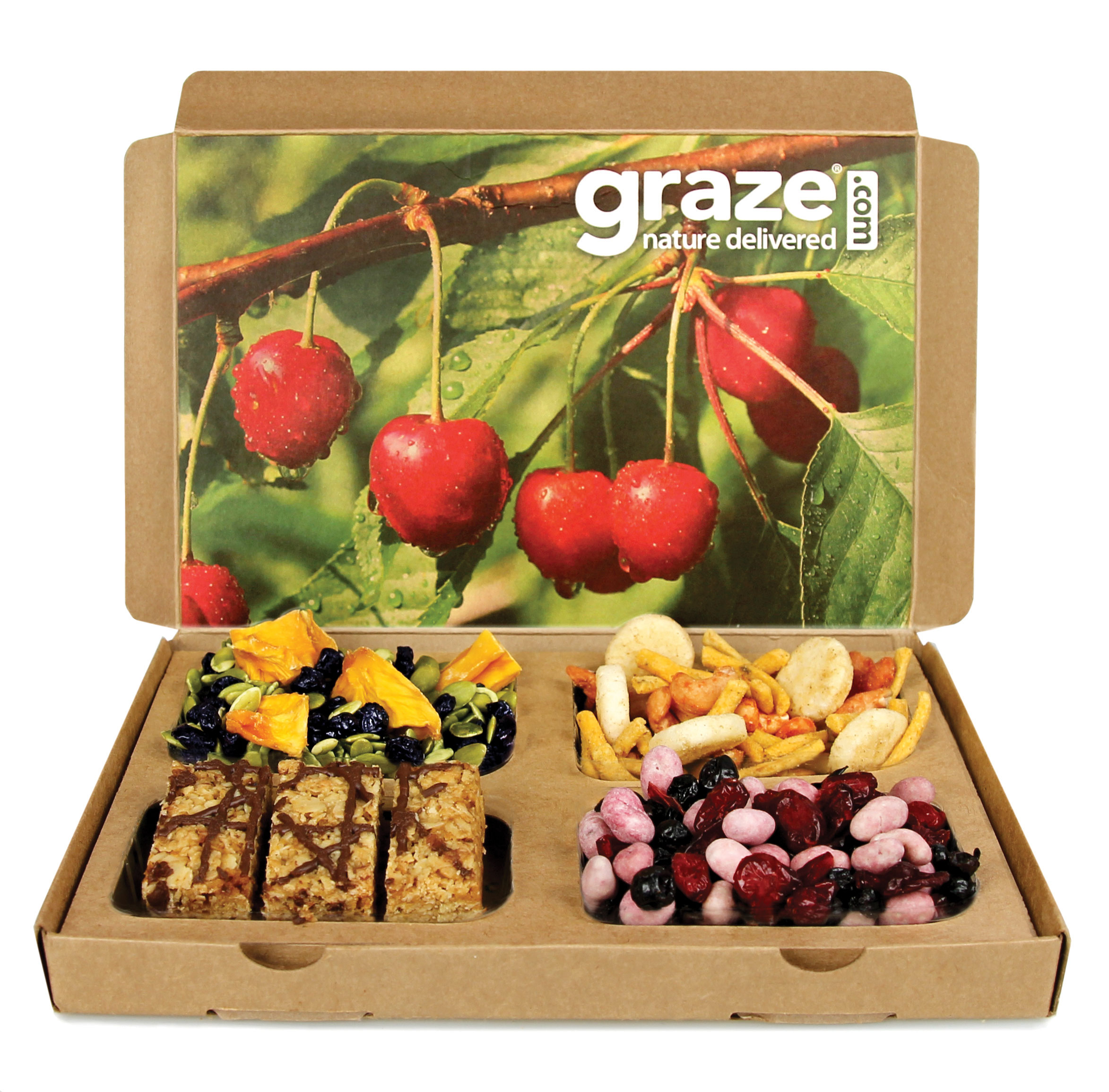 A sample Graze box
(www.graze.com press pack photo)
Psst! This has not been a sponsored post. I purchase Graze boxes because I love them. I wrote about them because I thought you might love them, too!